Easter is a Christian holiday celebrated around the world each year on the first Sunday after the first full moon of Spring. It marks the end of Lent, a forty-day period of fasting and spiritual reflection for many Christians. Easter also celebrates the resurrection of Jesus Christ and is often associated with a variety of customs and traditions in different countries. From colorful eggs to chocolates, Easter has become a time for families to come together and celebrate with food, fun, and religious observance.
Whether your family follows traditional Easter customs or prefers to do something unique each year, there are plenty of ways to mark this special occasion. Common activities may include dying eggs, attending church services or Masses, honoring Good Friday by following an old-fashioned egg hunt or raising children on an Easter Egg trail, baking special cakes or sweets such as Simnel Cake during Lent in certain parts of England; displaying Pysanky symbols on adornments made from food coloring or wax; exhibiting art featuring spring scenery or abstracts that captures characters from the Bible including Jesus; creating festive bonnets to wear during outdoor services; decorating homes with spring flowers such as lilies or tulips; exchanging gifts such as chocolate bunnies or money hidden in plastic eggs; attending organized events by parishes that involve outdoor processions through town centers bearing banners with religious images.
Is Easter a Single Day Celebration
Easter is the celebration of the resurrection of Jesus Christ following his death by crucifixion. This event, which Christians observe annually on the first Sunday after the first full moon following vernal equinox (Spring Equinox), is often considered to be the holiest and most important holiday of the Christian calendar.
While Easter traditions vary from culture to culture, most include some form of solemn observation remembering Jesus' life and death and a joyful celebration of his resurrection. Additionally, celebrations often include family gatherings, festivals and feasts like Easter eggs or hot cross buns; symbolic items like numerous flowers, crosses or lambs; as well as various religious practices such as attending special services or other sacred ceremonies.
The roots of many Easter traditions predate Christianity. For example, long before Jesus's life was celebrated in springtime festivals, ancient civilizations — including those in Europe, Asia and Africa — used pagan symbolism for their celebrations. In particular, spring-related festivities revolved around fertility symbols such as eggs and rabbits that were meant to represent renewal and rebirth after a particularly harsh winter season. As Christianity began to spread across Europe centuries later these pagan symbols eventually became integrated into Christian practice — thus forming many of our beloved Easter traditions today.
Easter Traditions Around the World
Easter is a widely celebrated Christian holiday, celebrated all around the world. The celebration does differ from culture to culture, but it typically involves some form of religious observance, gift-giving, and special meals.
Is Easter just a single-day celebration? Here, we will answer that question and explore the Easter traditions observed in different countries and cultures.
Europe
In Europe, Easter traditions range from solemn to festive. In countries such as France and Germany, churches often organize processions in the week leading up to Easter Sunday. In other regions across the continent, Easter Monday is a national holiday filled with the exchange of chocolate eggs and special meals shared with family and friends. In Poland, celebration of Resurrection Sunday includes special foods, such as lany Poniedzialek (or "wet" Monday). On this day, adults sprinkle water on children to ward off evil forces.
In many European countries, Easter also marks the beginning of springtime celebrations. Many families gather around bonfires or light candles on Saturday evening—a practice that symbolizes the victory of God over evil and a reminder of Jesus' resurrection. Other popular activities include egg decorating or rolling competitions, which represent the rolling away from Christ's tomb by an Angel after He was resurrected. Finally, traditional candlelit services honor Jesus' return to life. The lighting and rising flames signify a spiritual uplifting for those gathered in thanksgiving for His eternal victory over death's power on Earth and beyond.
Easter is the celebration of the resurrection of Jesus Christ following his death by crucifixion. This event, which Christians observe annually on the first Sunday after the first full moon following vernal equinox (Spring Equinox), is often considered to be the holiest and most important holiday of the Christian calendar.
North America
Easter is widely celebrated throughout North America and includes many unique traditions from both the United States and Canada, where religious and secular traditions blend together.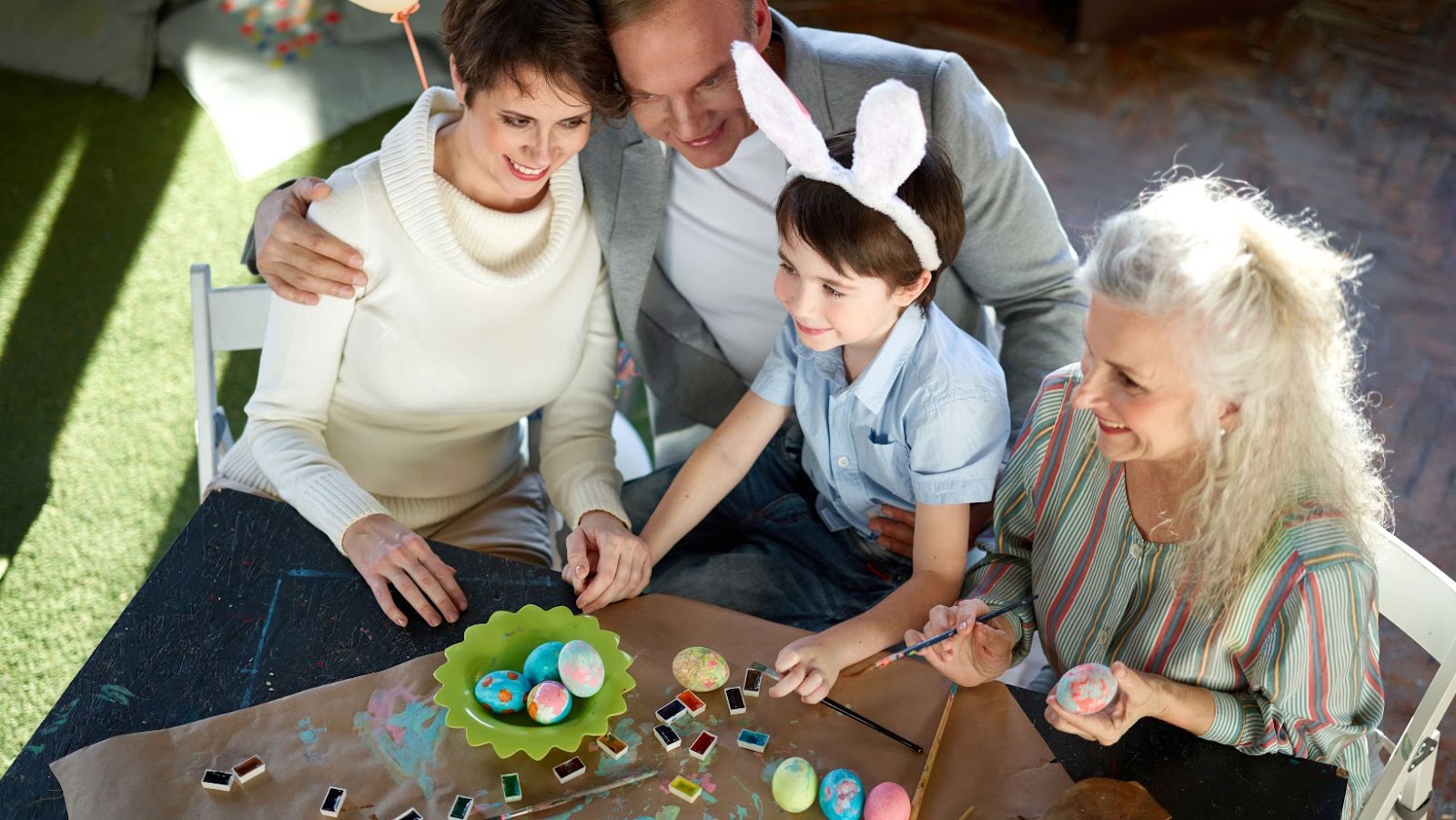 Pastel colors reign, especially in the United States where Easter dresses for young girls often take center stage as families gather for Easter Sunday service. Perhaps the most widely anticipated treat, however, is the Easter Bunny. Originated by German immigrants in Pennsylvania in 1700s and a symbol of fertility, today's version of the bunny is seen to bring baskets full of treats like chocolate eggs to children across North American on Easter morning.
In addition to traditional Easter eggs and candies, Americans have also adopted the tradition of hiding decorated plastic booby prizes called Paschal Eggs, which bear messages like "Finders Keepers" or "No Peeking" on them. Gifts for Jesus in Mexico, such as lamb-shaped chocolates and breads adorned with crosses are similarly enjoyed in Canada on Easter weekend as families embrace religious and traditional holiday celebrations together at home or with extended families.
Latin America
In Latin America, Easter celebrations typically center around religious devotion, but there are also lots of fun activities to be enjoyed. In Brazil, many people fill plastic eggs with candy and coins, gift baskets are often given to children as a surprise on Easter morning and parades occur throughout the region. In Argentina, hot cross buns are baked for breakfast on Easter Day and in Peru, hotels offer traditional feasts of roast lamb alongside local delights such as ceviche and foccacia.
Participants of Semana Santa (Holy Week) typically attend mass all week long in Mexico or a number of other Latin American countries to mark the week leading up to Easter Sunday. In Guatemala City, the streets come alive with vibrant processions re-enacting Jesus Christ's march on Jerusalem with floats carrying statues depicting different biblical scenes. Often the event culminates with fireworks displays lasting until the early hours of Sunday morning. El Salvador has taken a slightly moremodern approach to celebrating Easter through food – with their own traditional cuisines such as pupusas as well as seasonal delicacies like skewers of roasted pork over open flames, called ch'uchilas pascuales or "Easter skewers."
In many Latin American countries, Good Friday is marked in a solemn way – mourning for Jesus' death as if it had just happened that day. While it is not uncommon for shops and businesses to close down throughout this time period in order to observe holy days associated with Easter – which vary across countries – some cities continue celebrations into Saturday evening and nightlife events can be found taking place along the beach until sunrise.
Africa
Throughout Africa, Easter marks a joyous occasion, as people celebrate a mixture of Christian and traditional local beliefs. In many African countries, it is customary to spend Holy Thursday visiting neighbors and acquaintances. On Good Friday, many people fast and pray while observing an extended period of silence. After sunset on Saturday, families come together to share a traditional meal made with eggs and fufu—a paste made from cassava or plantains. On Easter morning, Africans go to church dressed in their finest clothing to sing hymns and celebrate the resurrection of Jesus Christ.
In East Africa's Ethiopia region, colorful processions take place during which green twigs are deposited at the entrances of family homes at dawn on Sunday morning. In Swaziland—located in South Africa—families gather around fireside while watching drummers perform. This unique celebration is thought to be rooted in an ancient performance that used drums to announce the arrival of spring. Elsewhere across large swathes of Africa's western region, small crosses are planted by families outside their homes each Easter morning as part of a celebration called tshatshingo.
In Anglophone areas such as Ghana and Nigeria, locals often indulge in sallah—a festival that coincides with Easter Sunday and celebrates spiritual survival passed down from generations before them. This tradition usually consists of wearing traditional clothing such as bubus (native gowns), exchanging gifts like books or money wrapped in colorful fabric with friends or loved ones; or simply taking time off for relaxing activities such as camping trips outdoors, visits to amusement parks or other games and entertainment activities shared between family members or within communities during this special season celebrated yearly.
Asia
Easter is celebrated around the world in various unique ways. In Asia, one of the most prominent Easter traditions is the building of kite replicas of daggers and swords from paper, wood, or bamboo. The purpose of constructing these replicas is to ward off evil forces and protect believers from harm during the festive season.
In countries like India and Pakistan, festival goers construct a variety of colorful kites with traditional Christian symbols such as doves, crosses, lambs, or Easter eggs crafted from paper on them. The larger ones are often shaped like a cross or have images illustrating the scene at Calvary where Christ was crucified and resurrected for our sins. Flying these kites also serves as a reminder to participants of all the people around them who have accepted Jesus Christ as their personal savior.
Kite flying competitions are also popular during this festive season with Christians in many parts of Asia gathering together to compete against each other in terms of distance flown. At these contests participants can expect some great fun while at the same time they get an opportunity to express their faith and spread awareness of Christianity in their communities. Additionally, organizers often use these activities as an opportunity to raise money for charity by collecting a fee for entering into competitions.
These activities are just one example out of many that demonstrate how Easter has evolved into a universal celebration across cultures throughout Asia and every corner of the globe that values religious freedom and shows respect for diverse beliefs.
Easter Celebrations in the US
The US celebrates Easter with a variety of activities and traditions. Easter is usually celebrated over a single day, but it can sometimes stretch into a weekend, depending on the family or religious tradition. Additionally, some cities and states observe different traditions, making Easter even more varied and unique.
Easter Egg Hunts
Easter Egg Hunts are one of the most popular Easter traditions in the United States. During this tradition, brightly-colored eggs, often made from plastic or ceramic, are hidden throughout parks, homes and other spaces for children to find. The eggs can be filled with candies, toys or coins and sometimes have special messages inside them with clues to more eggs.
Traditionally, parents would color real chicken eggs and participate in the hunt with their children by holding a basket for collecting their finds. Nowadays, many people purchase already-colored plastic Easter eggs so we don't have to worry about any mess created by a cracked eggshell on our carpets! But you can also still create your own dye and coloring kits if you want to keep things authentically old-fashioned.
In addition to regular egg hunts, some areas of the country feature "flashlight" egg hunts where participants arrive at night with flashlights or glow sticks to search in the dark. Many communities host big egg hunts at local parks with thousands of participating families; these events usually require advance registration due to their popularity and may also provide entertainment such as live music or bounce houses for kids.
Whichever type of hunt you choose join in on this timeless activity—an important part of every Easter celebration!
Easter Bonnets
The Easter bonnet is an enduring symbol of Easter celebration in the United States. A bonnet or hat made of fabric, straw, or ribbon is decorated with ribbons, flowers and other colorful decorations to create individualized works of art. Although modern styles vary greatly, some traditional designs for women include huge flower-covered hats, straw hats topped with pastel ribbons known as chenille stems and sophisticated feathered variations such as berets. Men have their own style rules which usually involve straw boaters topped off with a bright ribbon bow tie.
Bonnets date back to the mid 1800's when the middle and upper classes in Europe wanted to show off the latest spring fashions on Easter Sunday. As these styles crossed the Atlantic, American women began emulating this expensive trend by crafting homemade versions using pieces of cloth and scraps available at local stores. The tradition has since become very much a part of Easter celebrations in America, most notably among young children who often parade around town showing off their stunning bonnets filled with ribbons, lace and flowers on Easter morning!
In many European countries, Easter also marks the beginning of springtime celebrations. Many families gather around bonfires or light candles on Saturday evening—a practice that symbolizes the victory of God over evil and a reminder of Jesus' resurrection. Other popular activities include egg decorating or rolling competitions, which represent the rolling away from Christ's tomb by an Angel after He was resurrected.
Easter Baskets
Easter baskets are an integral part of many Easter Celebrations in the United States. The tradition of giving Easter baskets originated in Europe, and the age old custom was carried to the US by immigrants who settled in the regions of Pennsylvania Dutch Country and New England. Baskets are filled with goodies such as candy, fruit and chocolate eggs. Often times some small gifts can also be included like a stuffed animal or a toy.
In USA, there are two main types of Easter baskets used by children to collect their candies and treats from: wicker baskets or plastic pails decorated with bright spring designs. The basket is usually lined with pastel colored material before being filled with treats, toys and stuffed animals. Parents hiding these baskets have come up with creative ideas like filling them with grass-like paper shreds which adds color as well as an interesting texture to its overall appearance along with a pleasant scent.
The hunt for hidden Easter baskets can turn into an entire day event for children involving visiting relatives or friends' houses who also partake in this custom of giving out Easter gifts. Ultimately, this popular tradition offers countless opportunities for families to make memories that will last a lifetime!
Easter Parades
Easter parades are a fun and colorful way to celebrate this joyous holiday. Though the exact origin of Easter parades is uncertain, one popular story says the earliest Easter parade traditions began in the United States during the Civil War. The Union Army was camped near a Confederate prison, and families from both sides bet firewood to determine who could create the most elaborate display for their Easter parade.
Since then, these events have grown into public festivals that draw large crowds and feature floats of brightly colored eggs and rabbits, marching bands, clowns, candy treats and more. Float riders toss candy or other small toys to enthusiastic children waiting along the parade route. Many traditional Easter parades around the US feature both old-world ethnic customs and new elements such as costumed characters or displays related to current events or popular culture. Some of the most popular Easter parades include New York City's Fifth Avenue Parade; Philadelphia's Bunny Hop; Chicago's Dyeing of the River Parade; Pensacola Beach's Annual Sand Castle contest with sculpted eggs on Wheels; Seattle's Raincoast Eggs & Things Parade; San Francisco's United Nations Egg Festival; Papal Visit in Washington DC's annual Mass celebrated around Easter Vacation.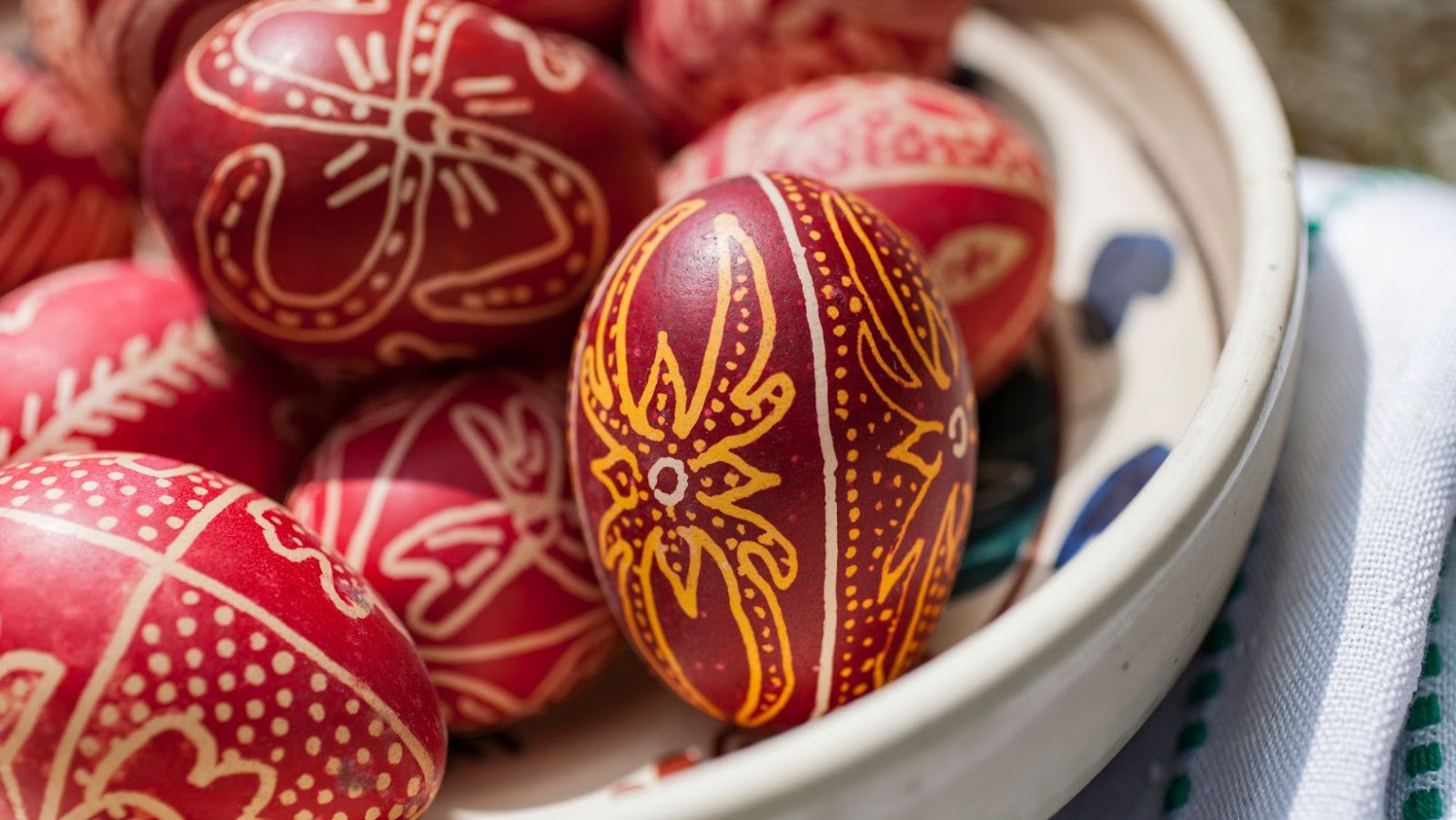 No matter where you live in the US, you should be able to find an Easter parade that celebrates your community's customs in a unique way!
Conclusion
Overall, Easter offers a unique opportunity to celebrate the most profound event in the Christian faith—the resurrection of Jesus Christ. Each family will find different ways to observe and make meaningful traditions that provide spiritual sustenance during the Lenten season and culminating with Resurrection Sunday.
Whether you're gathering together or connecting from a distance, Easter is a special time for spending time with loved ones, reflecting on spiritual truths, and setting traditions that can be enjoyed for years to come.