Chipolatas are a type of European sausage that is made from mutton, beef or pork. These sausages generally have a mild flavour and can be cooked in many ways. Chipolatas are a popular Christmas dish. However, you can enjoy Gotzinger Chipolatas all year- round. You can choose to cook them on the barbecue, or you can fry them, whichever you prefer. This sausage is a versatile food that can be enjoyed by people of all ages, so if you are looking for a yummy sausage to add to your menu, chipolatas are a perfect choice, and this article will explain why.
What are chipolatas?
Chipolatas are small sausages, typically made from pork, and they originate from Italy. These sausages are enjoyed all throughout Europe and are especially popular in the UK, where people have them for breakfast. They were, however, originally eaten as main lunch or dinner dishes and can be traced back more than 400 years ago. These sausages are usually prepared thin and short and are typically made from coarse ground pork that is seasoned with salt, pepper and other herbs and spices. You can fry Chipolatas, or you can grill them, and the taste can be compared to regular pork sausage. Different regions around the world consume chipolatas differently; for example, in the UK, they are commonly eaten with breakfast. In France, they are served with other types of meat and vegetables that are usually fried and glazed with Madeira, and in the US, chipolatas are also enjoyed during breakfast time either with an omelette or in frittatas or Italian inspired quiche.
The different types of chipolata sausage
A sausage is a type of food that is made from ground meat or a meat substitute. It usually contains seasoning and is cased in the animal's intestine or in a cylindrical shaped synthetic casing. Sausages come in a variety of shapes and sizes, including short, long, thin and fat. You can find pork sausage, beef sausage, chicken sausage, lamb sausage and even vegan sausages made from meat substitutes. Sometimes sausages also contain filler ingredients such as breadcrumbs and grains to enhance flavour.
Chipolatas, on the other hand, are thin meat sausage that originates from Europe. The Italian Chipolata means "prepared with onions", and originally, this was added to onion stews. Chipolatas are commonly made with ground coated pork and are seasoned with salt, pepper, herbs and other spices in a very specific formula of salt, rosemary, muscular or pimento. In Mexico, chipolatas are seasoned with cloves, chives, mace, onion, thyme, chilli peppers and coriander. In France, chipolatas are made from pork butt or shoulder that has been coarsely ground and seasoned with coriander, thyme and chives before being stuffed in a casing. In Britain, they usually add rice to their chipolata meat which reduces the fat content while adding more carbs.
How to cook chipolatas
Chipolatas can be cooked in a variety of ways, and there are endless recipes online. You can cook them in the oven, you can fry them on a pan, or you can put them on a grill or barbecue. It usually takes about 15-20 minutes to cook them on a pan and around 10-12 minutes in the oven. This sausage is popular as a breakfast food served with eggs or can be cooked in a sauce as a main meal. One serving of pork chipolata contains 2.2g of carbs, 22g of fat, 13g of protein and a total of 260 calories. This is a high source of protein, and because of the small size of these sausages, they can be enjoyed any time of day by adults and children alike.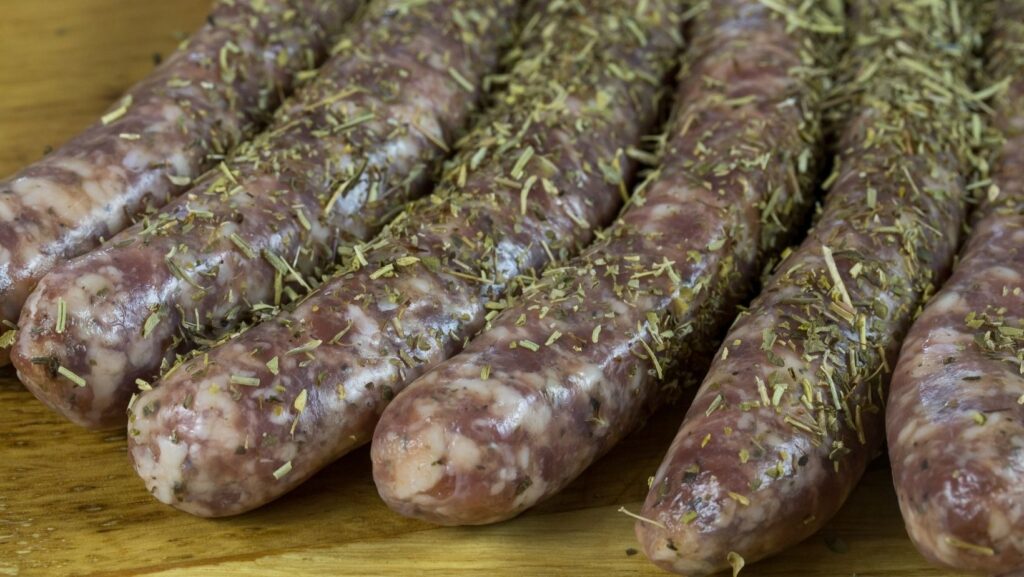 If you're a sausage lover, chipolatas are a great treat. Not only are they small and thin, but they also come in a variety for you to choose from. You can add these sausages to a stew, you can have it for breakfast, or you can add it into a sauce and have it as a main dish like the Italians do. These sausages are typically prepared and served to children because of their ideal size and quick cooking time. No matter what part of the world you are from, you will find chipolatas in most grocery stores.